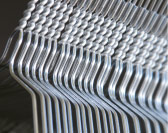 The result of over 60 years' experience in the manufacturing of wire articles, Segers' hangers are known for their exceptional quality and bright, clean and shiny appearance. Only the finest Bekaert® wires are used to produce a hanger that is robust and durable with an attractive finish. Our rigorous standards of quality control, attention to detail and expert workmanship ensure that only the best hangers are dispatched to our customers, no matter where they are located.
Can't find the exact size you're looking for? We provide a unique bespoke service which gives us the flexibility to adapt to our clients' needs: by adapting our machinery we are able to produce made-to-measure hangers that meet your precise specifications and dimensions. For further information on our unique customizable service please contact us directly, we are always happy to help.
Alongside high-quality wire hangers, Segers also offers cardboard trouser guards, pins and safety pins as well as alu clips. Plain and perforated rolls of plastic garment covers in different sizes can also be provided.
Type
Width
Thickness
cOnditioning
Shape
N
41cm
2.15mm
500 pièces
Notched
J
31cm
2.15mm
500 pièces
Junior
P
41cm
2.15mm
500 pièces
Plain
C
41cm
2.15mm
500 pièces
Collar
R (CN)
41cm

2.15mm

2,50mm

2.65mm

500 pièces

450 pièces

400 pièces

Rental
E
41cm
2.50mm
450 pièces
Rental
| | | | |
| --- | --- | --- | --- |
| N 2.15 | | C 2.15 | |
| J 2.15 | | R 2.50 | |
| P 2.15 | | E 2.50 | |